£100m biomass terminal for Liverpool
Liverpool's planned £100m biomass terminal will handle up to three million tonnes of wood pellets a year as part of the decarbonisation of Drax power station.
A by-product of commercial forestry and saw-milling in the US, the pellets will provide the Selby-based power station with a new, sustainable low carbon fuel source. Drax believes this will lead to an annual 12m tonne reduction in its carbon footprint.
All of the wood pellets will be sent to Drax by rail from Liverpool to Selby.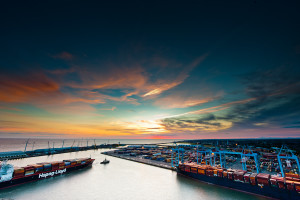 Andy Koss, CEO, Drax Power, said: "It is important to us that we measure the carbon footprint of every step in our supply chain from harvesting to transport. By shipping to Liverpool and transporting our biomass via rail, Peel Ports have provided us with a logistics solution which minimises carbon emissions and helps us maintain our low-carbon manifesto."
GRAHAM will build the new biomass terminal, which includes a new rail loading facility and storage capacity for 100,000 tonnes. It comes alongside Peel Ports' £300m plan to develop a deep water container terminal, known as Liverpool2.
Mark Whitworth, CEO of Peel Ports, said: "We are investing a further £100m to create a new biomass terminal at the Port of Liverpool, which will fuel the northern powerhouse by providing the wood pellets for Drax power station as part of the largest decarbonisation project in the EU.