TfL launches London Freight Plan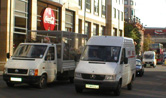 Transport for London has launched its London Freight Plan, designed to help improve deliveries in the capital and further reduce environmental impacts.
The Plan includes measures to improve the use of the Thames for freight, and initiatives to encourage off-peak deliveries to further reduce congestion.
It will provide guidance on delivery compliance to help operators reduce unnecessary costs, and will identify and promote incentives for operators investing in low carbon vehicles and operating practices. It also includes measures to further reduce the number of Londoners killed or seriously injured in collisions with commercial vehicles.
Ken Livingstone, mayor of London, said: "London's success, and future growth, is dependent upon the efficient movement of goods around the city. 'We need to improve the efficiency of the freight sector while reducing the environmental and social impacts of freight transport on London, particularly our contribution to climate change. Achieving sustainable freight distribution in London will make a real and positive contribution to improving the lives of those who live, work and visit London."
The Road Haulage Association has warned that it has reservations about the Freight Operater Recognition Scheme proposed in the plan.
The association said it supported Transport for London's objectives of safe and reliable goods services.
"However," said chief executive Roger King, "we have fundamental reservations about the Freight Operator Recognition Scheme which we have already indicated to Transport for London. In addition, we do not recognise the view that little has been done to address the freight agenda over the past 30 years.
"Truck operators and their suppliers have transformed the levels of noise and air pollution and greatly enhanced operating standards and efficiency within UK national and EU regulation. To take one example, trucks today are eighteen times less polluting than those sold fifteen years ago."