Wincanton plans second WEEE plant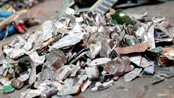 Wincanton, is to double its current electrical waste recycling capabilities by investing more than £5m in a second treatment site, to open in the Midlands later this year.
The new plant, developed and manufactured by German firm, MeWa, will be capable of treating up to 100,000 tonnes a year, the equivalent of over one million washing machines, nearly 100 million kettles or 715 million mobile phones.
Implementation of the European Union's directive on electrical and electronic waste (WEEE) means that a wide range of brown and white goods now have to be recycled.
Wincanton was the first company in the UK to open a dedicated WEEE treatment plant, opening its £4.5m facility in Billingham, Teesside in March 2006.
The new site will complement the existing facility and will also support Wincanton's national network of sortation centres that identify product that can be reused from that which should be recycled.
Gordon Scott, managing director at Wincanton, said: "The significant investment in the new site demonstrates Wincanton's continuing commitment to the treatment and recycling of WEEE. Our ability to provide a complete refurbishment, sortation and recycling service to retailers, manufacturers and local authorities across the UK will be strengthened by the new Midlands facility, which will double our current WEEE recycling capacity."