Hildon goes zero emission with Modec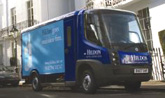 Hildon, the mineral water company, has chosen a Modec van for deliveries of bottled water within the London area.
Debbie Jones, environmental manager for Hildon said: "The Modec vehicle was purchased as part of our continued drive to become more environmentally friendly, and to reduce our carbon footprint. The success of this battery powered, emission free vehicle has meant we have been able to take a diesel HGV off the road. As to the future, we, as part of our environmental strategy, have already placed an order for a second Modec vehicle, which will be in operation later this year".
Hildon chose a box van with a raised floor and roof which allows a totally flat floor with no wheel arch intrusions.