AO to extend logistics fleet branding
Online white goods retailer AO is rebranding some of the vehicles in its third party logistics fleet to promote the AO.com brand.
AO bought two-man delivery company Expert Logistics from Iceland in 2009 giving it control over the distribution of its goods. Expert continues to provide third party logistics services as well as distributing AO products.
AO said: "With the exception of our 3.5 tonne premium installations fleet the vast majority of AO.com deliveries have historically been made using 7.5 tonne vehicles branded as our in-house logistics business which also makes deliveries for third parties.
"During the year we began to brand some of these vehicles as AO.com and we plan to extend this to more vehicles over the coming year thereby helping to promote the AO.com brand on the road."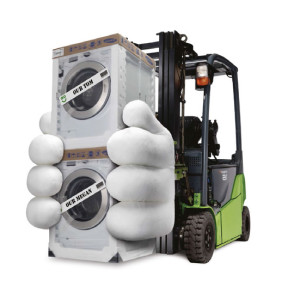 The group's report for the year to 31 March 2015 shows turnover in the 3PL business of £19m, up 2.9 per cent on a year ago. However, it warned that a logistics contract was lost during the year which would impact FY16 performance in this area.
Export Logistics now has 100 double deck vehicles, 225 7.5 tonne Expert branded vehicles, and 30 3.5T vehicles for its 'same day delivery' service.
AO web site sales rose 33 per cent last year to £381.5m. However, as at 31 March 2015 UK inventories were £28.9m – up from £15.9m the year before.
The group said that this reflected an increase in sales volumes and the change in its stockholding strategy for major domestics appliances "as we hold more stock to provide customers with same-day and next-day delivery options on an increased number of SKUs and buy more product in bulk".
It also increased its stockholding in the UK to support the AV category (televisions and audio). As a result UK average stock days increased to 27 days from 20 days last year.
In October, the group launched AO.de, the German version of AO.com. It said: "Now we have demonstrated operational effectiveness we are in a position to accelerate sales growth, drive efficiencies and continue to expand our retail offering in this new territory. Our recent progress has encouraged us to review our infrastructure requirements and we will increase logistics capacity as we build scale."
However, the costs of setting up the German operation contributed to a group operating loss of £2.2 million.