Car boot delivery trial for Amazon, Audi and DHL
Amazon, DHL and Audi are to trial a service that allows car owners to use their vehicles as mobile delivery addresses for parcel shipment.

The trial, which will take place in Germany, follows several months of development. The order is placed on Amazon.de, and the parcel is transported by DHL and delivered to the boot of an Audi.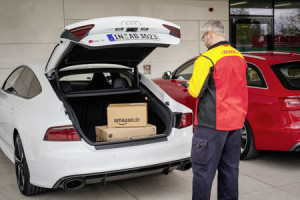 Using a smart phone app, the DHL delivery agent receives the exact location of the car as well as access to the vehicle's boot. After the delivery men have placed the item in the boot and closed its door, the car is then locked automatically. DHL receives confirmation via the app and the car owner is informed of via email.
Jürgen Gerdes, Board Member for the Post – eCommerce – Parcel division at Deutsche Post DHL Group, said: "This pilot project for car trunk delivery for private customers is unique in the German parcel industry; it demonstrates once again our market and innovation leadership as well as our commitment to parcel delivery services tailored more and more to the individual needs of our customers."
The three firms plan to conduct their joint pilot project over the course of several months in the greater Munich area, during time which selected customers will have the chance to test the service. Audi will register customers taking part in the early stage of the pilot.