DHL begins transport of A320 components
DHL Global Forwarding has begun moving aircraft components from Germany to a new Airbus assembly plant in Mobile, Alabama, US.
From the beginning of June, large components of the A320 family as well as 1,000 sea freight containers are to cross the Atlantic from the Hamburg Finkenwerder Airbus plant.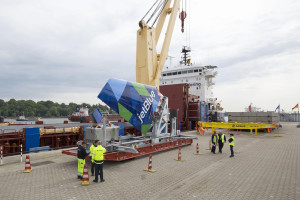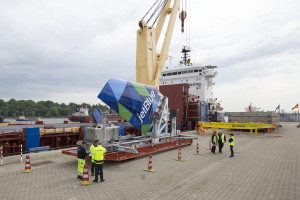 80,000 tons of freight volume for the assembly of aircraft in the US, comprising general cargo and major aircraft components including rear fuselage, forward fuselage, wings, and the vertical as well as horizontal tail plane, will be transported by DHL Global Forwarding.
"Transport management for highly sensitive heavy goods calls for highly specialised expertise in project logistics as well as a strong grasp of technical and security issues," says Nikola Hagleitner, CEO Industrial Projects, DHL Global Forwarding. "Together with Airbus our Industrial Projects team designed a sophisticated multimodal transport concept."
Five different aircraft components with a maximum weight of thirty tonnes each are loaded onto special sea transport frames and secured on roll trailers with twist locks before being moved to the Finkenwerder Airbus plant's wharf.