Fashion retailer picks Clipper for logistics
Fashion retailer Pep & Co has selected Clipper Logistics to operate logistics services, including warehousing and returns management at Pep & Co's distribution centre in Swadlincote.

Pep & Co plans to open its first store, in Kettering, Northamptonshire in July and expects to have 50 outlets up and running by the end of August, selling family fashion and homewares on the high street.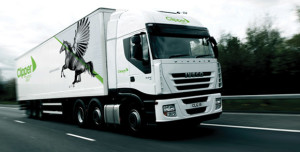 The contract was signed by Pepkor UK, which was established in 2014 by former Asda CEO Andy Bond and ex-Bain & Company consultant Mark Elliott.
Mark Jackson, CFO of Pep & Co, said: "We're delighted to bring Clipper into our Pep & Co team – they'll play a pivotal role in helping us deliver family fashion at amazing prices in our new high street stores."
Pepkor UK manages corporate activity in the United Kingdom in support of the wider Pepkor group – a Cape Town-based investment company with retail interests in Africa, Australia and Eastern Europe.
Steve Parkin executive chairman of Clipper said: "This follows closely on the heels of several new contract wins for, demonstrating the very significant progress made by the group since its flotation last year."