Forklift truck sales to beat pre-recession sales peak
Forklift truck sales are set to top pre-recession levels this year, with total shipments forecast to rise ten per cent to 30,399, according to a survey commissioned by the British Industrial Truck Association.
The survey, conducted by Oxford Economics, found that 83 per cent of BITA  members expect modest growth in the sector, with 17 per cent expecting significant growth.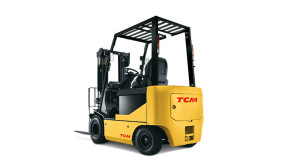 The members' survey is part of BITA's biannual economic forecast for the forklift sector. In terms of forklift prices, 83 per cent of those polled expected a modest rise, reflecting growing demand.
Jeremy Leonard, Oxford Economics' head of industry services, said: "We expect that 2015 will be the year when total shipments finally break through the pre-recession sales peak, with total shipments of 30,399 units forecast, representing a growth of 10 per cent. Orders are also forecast to grow by 6.8 per cent to a total of 32,087, above their 2007 peak."
The greatest upturn has been recorded in the warehouse sector, with 2014 shipments increasing 11.5 per cent compared to a 10.2 per cent forecast. In addition, orders outstripped the forecast, with 17.5 per cent compared to 11.7 per cent.
In contrast, counterbalance shipments since the last report have been relatively disappointing, but this comes off the back of previous strong growth. In 2014 shipments grew by 6.1 per cent compared to the forecast of 6.9 per cent, resulting in a downgrade of the 2015 forecast.
James Clark, secretary-general of BITA, said: "The contrast between counterbalance and warehouse bookings is interesting as warehouse surges ahead off the back of the continued growth of online shopping and rising disposable income. Manufacturing confidence seems to be lagging behind that of the economy generally but hopefully as this improves we will see counterbalance shipments beginning to climb, supported by the new generation of ultra-low emission trucks coming through, and hybrid versions which can be used inside and out."
The broader economic survey revises upwards the forecast for UK GDP growth, from 2.7 per cent to 2.8 per cent, giving the UK the highest forecast growth of all the G7 countries, including the US.