Great Bear takes 479,285 sq ft DC at Markham Vale
Great Bear Distribution is to open a 479,285 sq ft distribution centre at Markham Vale Business Park in Chesterfield.

CEO Glenn Lindfield said: "The site is exactly what we've been looking for with tailor-made facilities in a prime location just off Junction 29A of the M1 motorway, providing easy access to our customers and other bases across the UK."
It has agreed terms with Henry Boot Developments to pre-let the DC and is taking a 15 year lease at £4.75 per sq ft.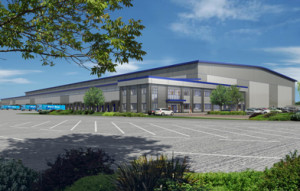 The building will have a 19m clear internal height. Henry Boot expects to start construction by autumn 2015 with completion anticipated in the spring of 2016.
The deal follows Great Bear's acquisition of a 412,000 sq ft property in Sheffield in 2014 bringing its total UK network space to nearly five million sq ft.
Ben Ward, of Henry Boot Developments, said: "This activity gives us the confidence to develop new plot opportunities on the north part of the site with a launch planned in the summer. A further 40,000 sq ft pre-let is in the pipeline at Markham Vale West and is due to complete before the end of 2015."
The timing of the deal coincides with the forthcoming launch of Markham Vale North which will accommodate units from 50,000 sq ft up to 600,000 sq ft.
Located at Junction 29A of the M1 in Chesterfield, Markham Vale is a joint venture between Henry Boot Developments and Derbyshire County Council and is one of the UK's largest Enterprise Zone developments.