Market changes drive 3PL innovation
Logistics providers are being pushed to provide increasingly innovative services as e-commerce increasingly makes the logistics provider the critical link between the retailer and the customer.

Eoin Kenneally, head of e-commerce at Hermes, told delegates at the 3PL Conference in Birmingham on Wednesday how the delivery specialist is developing new services to support their retail customers' brands.
Hermes delivered 200 million items in UK last year and the business as whole has been seeing growth of 15 – 20 per cent year on year.
He pointed out that Hermes was the first carrier to launch Sunday deliveries. That had really started to take off in the past six months.
And he expected click and collect to continue growing.  At the moment, he said, consumers saw click and collect as something you do at somewhere like Argos – not the local corner shop. But he expected collection from corner shops to increase over next year or two.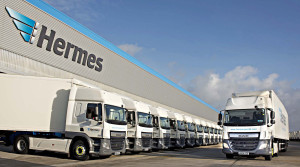 Hermes is planning to launched a platform for consumers later this year offering specific time slots and the opportunity to divert parcels. Importantly, these systems will be compatible with retailers own systems.
Catherine Lindsay, contact centre manager at Hermes, highlighted the importance of ensuring that services fitted in with customers' lifestyles.
She  pointed out that Hermes now had six channels to deal with customers – it's no longer just about phone and letter. "The biggest change is that customers want to be able to contact us in a way and time that suits them using social media.
"We manage our social media to be interactive places to engage customers, and we spend lot of attention and time trying to get right," she said.
Kenneally also examined the issues created by Black Friday – with retailers offering big discounts and next day delivery.
"The sheer volume out of this world," he said pointing out that carriers struggled to meet the massive spike.
And he argued that retailers could improve the situation by not offering next day delivery for heavily discounted products. That would help smooth the flow of through the delivery network.