Mega shed development set to rival Magna Park
Barwood and Delancey property joint venture dbsymmetry has just submitted outline proposals for a 3 million sq ft strategic logistics park to rival IDI Gazeley's Magna Park Lutterworth in Leicestershire.
The 220 acre site located just south of Magna Park will be known as symmetry park.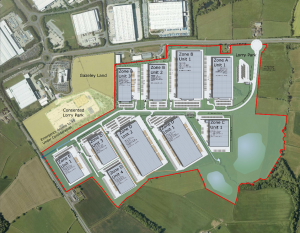 In its design and access statement, developer dbsymmetry says: "Magna Park, located immediately to the north, comprises some 10.45 million sq ft (970,828 sqm) of logistics space. Gazeley has recently submitted an application for an 180,000 sq. Ft (16,723 sqm) unit on the last plot of Magna Park and have confirmed this will be speculatively built. Once this is complete, there will be no remaining plots left for occupation, hence the need for further logistical development in the area.
"Many buildings on Magna Park are nearly 25 years old and are "first generation" logistics warehouses which do not meet the requirements of modern warehouse operators who need high bay, energy efficient, well laid out warehouses, with increasing scale demands to meet both their environmental and operational targets.
"symmetry park is capable of delivering up to 3 million sq ft (278,709 sqm) of new logistics and employment space and is one of the few sites in the Midlands capable of providing a cross docked facility of over 1,250,000 sq ft (116,128 sqm) in a single floor plate. A 52 space lorry park is also included within the scheme to cater for occupiers of the park. This scheme has the potential to deliver approximately 3,500 additional jobs."
Peter Frampton of Framptons which is advising on the development says: "There is an urgency in the need to bring forward land to meet the needs of the modern logistics sector because of its contribution to economic growth in a local, regional and national dimension. Most people recognise the rapid growth that has occurred in recent years in electronic retailing, which has given rise to the requirement for some very substantial buildings for the distribution of goods. Household names, for example, Amazon and John Lewis occupy very large buildings in key locations within the country. Companies selling goods via the internet, efficiently serve their customers by ensuring that logistics buildings are well placed to their markets.
symmetry park is well located to meet the identified needs of the logistics sector, capitalising on its unrivalled location at the heart of the logistics "Golden Triangle" with excellent transport links to the M1, M6 and M69 and the wider UK motorway network.
The proposals come hot on the heels of news of a detailed planning application by IDI Gazeley for a 1.1 million sq ft facility for DHL Supply Chain on land north of Magna Park. In its submissions IDI Gazeley admits that there is "no expansion land within the park save for plot 2110, the small site of the 38,039.65 sq ft former George headquarters there are no undeveloped plots in the park and have not been since 2007."
IDI Gazeley can only develop the scheme for DHL because it has been able to acquire a some further land from an occupiers site adjoining plot 2110, which is subject to its own application for the development of a speculative warehouse. The DHL plot totals 136.92 acres and detailed plans envisage 1,027,296.84 sq ft of warehousing and 51720.58 sq ft of offices.
The planning authority is expected to give its verdict on the sites by the autumn.