Port Salford lands General Mills as first tenant
General Mills is to move to a 280,000 sq ft site at Port Salford, becoming the first tenant of the distribution hub.

The facility will serve as a central hub for General Mills' ambient brands arriving by sea freight from Europe, and will be operated by Culina Group. General Mills expects to save 600,000 road miles a year from the move.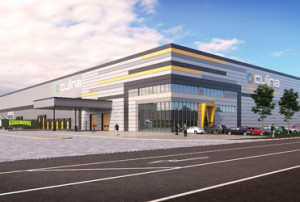 General Mills is responsible for brands including Old El Paso, Green Giant, Betty Crocker and Nature Valley. According to Dave Howarth, UK & Ireland supply chain director, the move is set for April 2016.
It would enable a demand driven logistics solution "with load efficient multi-supplier consolidated deliveries to large retail customers 364 days a year," he said.
The facility will be equipped with built for purpose co-packing capabilities enabling "close to demand" pack format differentiation to meet the growing demands for "right pack/right channel".
Port Salford is located adjacent to the Manchester Ship Canal and next to the arterial motorway routes of the M60 and M62. The site will be accessible by road, short sea shipping and rail, opening up the possibility of moving freight by rail in the future.
Culina chief Thomas Van Mourik said: "We are absolutely delighted that General Mills, one of our long standing, world class customers, will be housed at our unique and game-changing logistics facility. And Mark Whitworth, CEO of Peel Ports Group, said: "This excellent news is a clear endorsement of the benefits to the UK supply chain that we envisaged when developing Port Salford and such investments are helping the North West to transform the UK logistics infrastructure."