Profits up 18.6pc at Ceva
Ceva Logistics saw an 18.6 per cent rise in first quarter EBITDA, up from $43m for the first three months of 2014 to $51m for the three months ending 31 March 2015.

First quarter revenue of $1,776 million was up 4.6 per cent in constant currency and down 4.8 per cent as reported. Adjusted for constant currency, EBITDA rose 23 per cent year-on-year.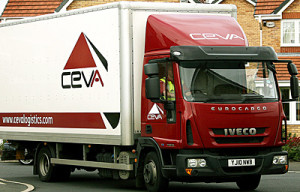 Air freight and ocean freight volumes grew 5.2 per cent and five per cent, respectively.
CEO Xavier Urbain said: "We are seeing the visible impact of the operational improvements, on-going streamlining of processes and greater responsiveness to our customers' needs enabled by the new operating model."
New business in the freight management division rose 55 per cent, while there was a 15 per cent year-on-year increase in contract logistics.
* Ceva has appointed Helmut Kaspers chief operating office for global air and ocean freight. He replaces Michael Schaecher.