Samsung's 'see-through' truck
Samsung has come up with a "see-through" truck that enables the driver of the vehicle behind to see the road ahead of the truck. The Safety Truck consists of a wireless camera attached to the front of the truck, which is connected to a video wall made out of four exterior monitors located on the back of the truck.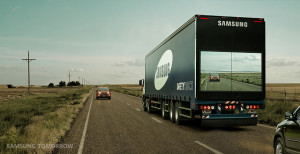 The monitors give drivers behind the truck a view of what is going on ahead, even at night. This allows drivers to have a better view when deciding whether it is safe to overtake. Samsung led the prototype development by providing large format display samples. It says it has been able to confirm that the technology works and the next step is to perform the corresponding tests to comply with the existing national protocols and obtain the necessary permits and approvals.