Top 50 3PLs: change is in the air
Third party logistics providers are facing a period of unprecedented change with retailers adjusting to new consumer buying habits, and a flurry of takeovers redefining the business landscape, says Malory Davies.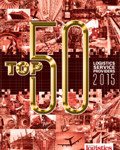 (This is the introduction to Logistics Manager's annual Top 50 3PL survey. The full survey is available in print format – please contact us for more information.)

Many of the operators in a recent survey by Barclays highlighted over-capacity in the third party logistics market, combined with price challenges from larger multi-national providers for an increase in competition.
Perhaps it's no surprise then that recent months have seen some major changes in the market. Christmas Day brought a particularly unpleasant present when City Link, which had been 15th by turnover in last year's Top 50, called in the administrators.
The carrier had been loss-making for several years, but management were still hopeful of turning the business around when owner Better Capital decided to pull the plug.
And an investigation by MPs could have implications for the way companies operate in the express and home delivery market – particularly the use of self-employed delivery staff. The report, "Impact of the closure of City Link on Employment", by the Business, Innovation and Skills Committee and the Scottish Affairs Committee, said: "The incoming Government should bring forward proposals for tackling companies who use or encourage this practice. We reiterate the call in "Zero hours contracts in Scotland: Interim Report for the Government" to set out what steps it is taking to prevent workers from being pushed into bogus self-employment."
Elsewhere in the express market, FedEx has launched a takeover bid for TNT, following the failure of UPS's bid in 2012. The merged business would have sales of some £1bn in the UK. Globally, FedEx had sales of some $45.6bn (£31.2bn) in 2014 while TNT Express has sales of €6.5bn (£4.7bn) giving a combined total of £35.9bn. The deal, which is expected to be complete in the first half of next year needs the approval of the European Commission. The two companies said they were confident that any anti-trust concerns could be addressed adequately.
While a bid for TNT is not entirely surprising, the XPO bid for Norbert Dentressangle caught most commentators off guard. XPO has been growing rapidly on the back of a series of takeovers in the United States. And it has agreed to buy the 67 per cent of Dentressangle shares owned by founder Norbert Dentressangle. The deal values the business at €3.24bn (£2.32bn).
Dentressangle was 24 years old when he founded the business in 1978. It has grown dramatically since then with takeovers of Christian Salvesen and TDG in the UK. Dentressangle has just reported sales of €5.1bn (£3.65bn) for the year to 31 December 2014. XPO has undertaken not to reduce the number of full time employees in France for at least 18 months, and will maintain the European HQ in Lyon.
XPO has been growing very rapidly in the US, but in Europe, Dentressangle led by Hervé Montjotin will be the core of the business. For some time Dentressangle has been pushing hard to overtake Wincanton in the UK market. In 2013 they were neck and neck vying for fourth spot in this year's Top 50. However, it is clear that Dentressangle overtook Wincanton in 2014.
City Link wasn't the only carrier to close last year. Seafield Logistics, which had sales of some £30m, called in the administrators in June. Its bulk powder transport business was sold to Abbey Logistics, while the warehousing business based at Winsford was acquired by Lomas Distribution.
The past year has also seen an increasing cross-over from the newspaper distribution sector. In November, The Connect Group, which owns Smiths News, acquired Tuffnells, the Sheffield-based parcels carrier, for £128.7m. Tuffnells, the big green parcel machine, specialises in mixed freight and parcels – particularly "uglies" – items of irregular weight and dimensions.
The trend towards online has hit newspaper sales in the UK and companies like Connect and Menzies have been looking at ways of using their delivery fleets when they are not making newspaper deliveries.
Just weeks before the Tuffnells deal, the Connect Group launched Pass my Parcel, with Amazon as the launch customer. The service, is available at more than 500 newsagents and convenience stores.
Menzies Distribution is also expanding its logistics operation, the business it launched in October 2013 to exploit unused capacity in its newspaper distribution fleet. In October it agreed a deal to deliver betting slips to UK branches of Coral and Ladbrokes. As third party logistics supplier to Citipost, it will deliver 200 million betting slips per year to 1800 shops.
Even newspaper publishers are looking to offer logistics services outside the business. In November, News UK, publisher of The Times and The Sun, has launched a print and logistics service for newspaper and magazine publishers – Newssolutions. The aim is to make use of the spare capacity at its existing printing plants and distribution operations.
Mike Darcey, CEO of News UK: "We are in print for the long term – we believe it is pretty durable. With shrinking print circulation challenging publishers, we have identified the opportunity to collaborate and achieve the economies of scale that will ensure we all have a thriving and profitable future for the printed product."
In August last year News UK signed a joint distribution deal with the Telegraph Media Group using Ceva's network. Chris Taylor, chief operating officer at News UK, said that this arrangement has saved some one million truck miles over the past year.
How we compile the Top 50
This year's rankings are based on company turnover in 2013-4 – the latest year for which full figures are available.The vastmajority of companies have financial years that end on 31st December or 31stMarch, so itmakes sense to compile the figures from company accounts for financial years ending between 6th April 2013 and 5th April 2014.However, itmeans that those few companies with financial years to 30th June have significantly earlier figures than the rest. Some companies,mainly PLCs, have already reported figures for the year to 31st December 2014. We have included these where possible, but they have not be used for the rankings.
Financial performance: But are profits increasing?
This year we have looked at trends in sales, profits and margins, for three groups – companies that offer mainly classic 3PL services, companies that offer mainly express and home delivery services, and companies that offer mainly classic freight forwarding services.
It is apparent that most of the 3PLs in our survey have seen turnover rise since 2012-13. On average the increase is 4.5 per cent – but many saw a significantly higher growth rate while 15 out of our sample of 52 companies saw sales fall.
Overall, the 3PLs increased operating profit by some 25 per cent, nevertheless more than half of the companies reported a fall.
As a result, the average operating profit margin among our sample of 52 companies rose to 3.1 per cent from 2.6 per cent in 2012-13.
Splitting the 3PL group by sales suggested that sales growth was strongest among the largest companies. Companies with sales over £200m saw 6.5 per cent growth, while companies with sales between £50m and £200m saw sales fall by an average of one per cent. And those companies with sales under £50m saw sales fall by 4.1 per cent over the period.
However, when it comes to profit margin, bigger isn't necessarily better. Companies with sales over £200m saw operating profit margin fall from 2.9 per cent to 2.65 per cent.
Companies in the middle group (£50m-£200m) saw average operating profit margin rise from 1.1 per cent to 4.9 per cent. Companies under £50m turnover saw operating profit margin fall 3.5 per cent to 3 per cent.
Freight forwarders appear to have had a tougher time. On average, turnover fell by 1.5 per cent and operating profit was down by 17.4 per cent. This clearly reflects tough trading conditions in international markets in recent years. Some 13 of the 22 companies in this group saw sales fall and 17 of them saw operating profit fall.
Average operating profit margin was down from 1.8 per cent to 1.5 per cent for this group.
You would expect the express and home delivery market to be booming on the back of the online shopping revolution. However, the figures for the 15 companies we surveyed suggest a rather more mixed experience. Five companies saw sales fall, while three saw operating profit fall. The figures include City Link, which, of course, was trading during the period under review – however, it wasn't the biggest loss-maker. Yodel which had been going through major change at the time produced a bigger loss.
On average turnover in the sector was up 5.5 per cent with companies like Geopost reporting sales growth of more than 20 per cent. And, on average, operating profit was up 37 per cent. Average operating margin was up from 1.49 per cent to 1.9 per cent – a big improvement but still wafer thin.
What about… Amazon.co.uk
How do you account for Amazon – it does logistics but is it own account or 3PL? Last autumn, Royal Mail chief Moya Green estimated thatAmazon's own delivery network "will reduce the annual rate of growth in the UK addressable market to 1-2 per cent for approximately two years".
The annual report for Amazon.co.uk Limited, describes the principal activity of company as "provision of fulfilment and corporate support service to other Amazon group undertakings". Turnover for the year to 31 December 2013 was £449m – and that was a 40 per cent increase on the year before.
If that turnover was all from third party logistics, then Amazon would be 12th in our Top 50.