Editorial Features 2016 – 2017
These are the editorial features planned for Logistics Manager for the rest of 2016 and into 2017.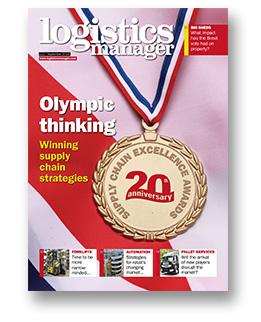 If you would like to contribute to a feature please contact:
Malory Davies on +44 (0)20 7953 3002.
Email:  malory.davies@akabomedia.co.uk
NOVEMBER 2016
Warehouse automation for retail
Intralogistics: Storage systems
Transport: IT systems / Equipment
Intralogistics: Forklift service and maintenance
Deadline for contributions: 7th October
DECEMBER 2016
Supply Chain Excellence Awards: Full Report
Intralogistics: Articulated forklifts
Intralogistics: Loading bay technology
Intralogistics: Printers
Deadline for contributions: 7th November
2017
JANUARY 2017 (DIGITAL)
SME Special
Logistics focus on SMEs
Materials Handling Equipment for SMEs
Logistics Providers: Small and Medium
Rail Freight
Lessons from Black Friday 2016
FEBRUARY 2017
Order picking
Intralogistics: Counterbalance Trucks
Intralogistics: Packaging and Recycling
IT: Workforce Management
IT: RFID and barcoding
MARCH 2017
Preview – IntraLogisteX Show
Preview – Logistics & Supply Chain Conference
Order picking technology
Intralogistics: Racking and Shelving
IT: Warehouse Management Systems
Logistics operations: Home delivery
APRIL 2017
Intralogistics: Robotics
Intralogistics: Reach Trucks
IT: Demand Management
Logistics operations: Intermodal
MultiModal Exhibition Preview
CV Show Preview – focus on vans and distribution vehicles
MAY 2017
Intralogistics: Automation technology: storage and retrieval
Intralogistics: Warehouse safety equipment
IT: Fleet Management Systems
Transport: Contract Hire and Rental
JUNE 2017
Order picking for home delivery
Intralogistics: Flooring & Mezzanines
Intralogistics: Used and refurbished forklifts
IT: Inventory management systems
Logistics operations: 3PL
JULY 2017
Warehouse automation
Intralogistics: Loading Bay
IT: Carrier Management
Transport: Vans
Logistics operations: Reverse Logistics
Supplement: Top 50 Logistics Service Providers
AUGUST 2017 (DIGITAL)
Intralogistics: Packaging for Omni-channel
IT: Supplier Relationship Management
Logistics operations: Control Towers
Consultants
SEPTEMBER 2017
Preview: Omni-Channel Conference
Supply Chain Excellence Awards Shortlist
Pallet Networks
Logistics operations: Omni-channel & Multi-Channel
Intralogistics: Narrow Aisle Trucks
Transport: Trailers
OCTOBER 2017
Intralogistics: Forklift technology inc batteries
Intralogistics: Packaging technology
IT: Network Design & Optimisation
Logistics operations: Home delivery
---
Property Features
Editorial Enquiries:
Liza Helps on +44 (0)1449 673952
Email:  lizahelps@googlemail.com

November 2016
National: Big Sheds
December 2016
Regional: East Midlands & East Anglia
National: Urban Warehouses
2017
JANUARY 2017
Regional: North West
FEBRUARY 2017
National: Big Sheds
MARCH 2017
National: Speculative developments
Regional: London M25 East
APRIL 2017
Regional: West Midlands
National: Air sea and rail sheds
MAY 2017
National: Big Sheds
Regional: East Midlands & East Anglia
JUNE 2017
Regional: North & North East
National: Warehouses for multimodal
JULY 2017
National: Big Sheds
SEPTEMBER 2017
National: Big Sheds
Regional: London M25 West
OCTOBER 2017
National: Design & Build
Regional: West Midlands
---

Click here to learn more about the advertising opportunities and download a copy of the media pack.
Advertising Enquiries:
Serena Franklin:  +44 (0)20 7953 3010.
Email: serena.franklin@akabomedia.co.uk