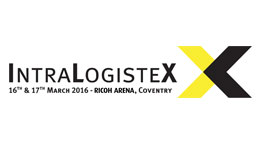 IntraLogisteX
16th Mar 2016 - 17th Mar 2016
Visit Website
IntraLogisteX is the ONE exhibtion for intralogistics innovations.
IntraLogisteX includes a host of special zones and pavilions highlighting different aspects of intralogistics:
* AMHSA members will be highlighting innovations in automated handling and storage.
* There will be a comprehensive seminar programme focusing on critical issues in intralogistics operations.
* Demonstration zones will highlight the latest technology in action.
* And a special feature will be a "Future Zone" demonstrating cutting-edge technologies that will impact on intralogistics in the years to come.
THE UK INTRALOGISTICS AWARDS
Following on from the success of the inaugural UK IntraLogistics Awards in 2015, 2016 will see the 2nd annual Awards presented at IntraLogisteX. The Awards will recognise great products and services from intralogistics providers. With a team of judges made up of senior industry specialists, the Awards will be uniquely valuable accolades.