Developer Wykeland Group's Melton West development becomes only a handful of sites across the north of England that could accommodate a 1 million sq ft 'mega shed' following land acquisition.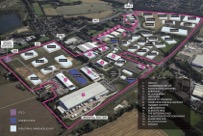 The developer bought the neighbouring Melton Park site pushing the scheme to 200 acres that could accommodate a single unit of 1 million sq ft. The development in total is expected to accommodate up to 2.85 million sq ft of space, including existing operations, which currently total 750,000 sq ft of completed development, with leading businesses located on site including Heron Foods, generator manufacturer Allam Marine and shower maker Kohler Mira.
Wykeland has appointed Hull-based Garness Jones and CBRE as joint agents for Melton West.
The scheme is located just off the A63 west of Hull and has easy access via the M62 to the national motorway network. The site is also close to the Humber ports, the UK's busiest trading complex, and can draw on a labour force of one million people within a 30-mile radius. The business park benefits from Enterprise Zone Status, meaning investors can enjoy discounted business rates.
Wykeland Managing Director Dominic Gibbons said: "We know there is significant pent-up demand for the opportunities offered by Melton West as there has been no new, substantial development of this type and size in the Humber area in recent years.
"There are only a handful of sites on this scale available in the North of England and a shortage of facilities such as this across the M62 corridor.
"The location and development opportunities are ideal for modern warehousing and distribution requirements and we have already received a number of enquiries."