40 MAN trucks for Royal Mail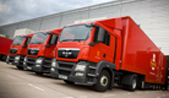 Royal Mail has added 40 MAN TGS tractor units to its fleet. The 18.400 4×2 BLS units are being used for trunking operations out of the company's Birmingham mail centre.
Royal Mail is reported to be "very interested" in the potential savings provided by the Exhaust Gas Recirculation engine technology.
Steve Walker, head of distribution, said: "With no extra costs and complexities of AdBlue to worry about, MAN's is a simpler solution."