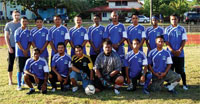 Critical tie for Pohnpei
Last month you could have travelled to Hanover to see all the latest in commercial vehicle technology at the huge IAA exhibition – or you could have taken a virtual tour using an iPhone app courtesy of MAN.
MAN says it is the first commercial vehicle manufacturer to offer such an app saying: "Persons intending to go to the IAA can plan their individual tours of the fair beforehand, at home or on the way to Hanover." As well as providing directions to the fair, opening hours and ticket prices, and directory of exhibitors, it also included a virtual tour of the MAN stand, describing all the highlights of the fair in a compact form, with the technical data of each exhibit being displayed on request together with its exact location on the MAN stand.
Tee and empathy
Members of Women in Logistics UK raised £100 for Transaid, the group's chosen charity at the recent golf and professional development day at Stonebridge Golf Club, Coventry. The funds will go towards Transaid's training of taxi drivers taking pregnant women in Northern Nigeria to hospitals and healthcare centres helping improve and save lives.
Clare Bottle, chair of Women in Logistics UK, said: "We now have more than 1,125 members in the group, which considering it's not yet two years old, is a real achievement. It's a brilliant forum to share ideas, support and network, and we are looking to hear from other logistics professionals who want to be part of this influential group.
Transaid's work promoting transport skills in Africa will feature prominently during WIL's logistics and charity event on 6th October in Chesterfield, which will focus on the role of transport and logistics in the developing world.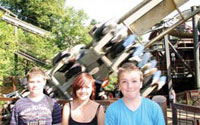 Break time for kids
FedEx has launched its new relationship with children's charity Action for Children with a fun day at Alton Towers for 18 young carers from the charity's Derbyshire Young Carers Project.
The day marked the launch of Action for Children and FedEx's joint programme, "Delivering Hope to Children", as well as providing a treat for the young carers who rarely get a break from their caring duties. FedEx has made a donation of £83,000 to the charity, which will go towards specific activities or short breaks for the children.
Breaker one-nine
it makes CB Radio look like a "pair of rusty baked bean tins and an old length of string" – that's how Volvo describes its Worldtrucker networking web site which has just been launched in the UK. It says the new site isn't just for Volvo drivers. "Worldtrucker is open to any driver of any truck, anywhere in the world and it will enable them to communicate, make friends and discuss hot topics in their home country or even worldwide."