NYK Logistics shows off new branding
The Yusen Logistics branding that will be adopted by NYK Logistics on 1st April has got its first run out on ten new trailers going into service with NYK Logistics North Continent.
The Krone Profi Liner trailers were chosen "after careful consideration of our growing operational needs', said Hans Snellings, senior general manager of NYK Logistics (Charleroi).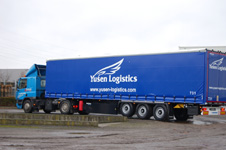 The new European Yusen Logistics organisational structure will also be announced on 1st April.