FedEx launches in Northern Ireland
FedEx Express has launched a new operation in Northern Ireland, from a 20,000 sq ft facility at Kilroot Business Park in Carrickfergus, County Antrim which will create 52 new jobs.
It will provide domestic ground delivery service within Northern Ireland and a FedEx global service using a daily flight from Belfast International. A next-business-day service will operate to and from Europe and to the US East Coast, with a two-business-day service to Asia and the rest of the US.
Arlene Foster, MLA and minister for enterprise, trade and investment, was at Belfast International today and said: "The availability of logistics companies such as FedEx is important for businesses seeking to win and having to service sales outside Northern Ireland. The presence of an internationally renowned company such as FedEx will add to our inward investment proposition and increase Northern Ireland's attractiveness to potential investors."
Gerald P Leary, president of FedEx Express Europe, Middle East, Indian Subcontinent & Africa, said: "Northern Ireland's future economic prosperity hinges on reaching beyond neighbouring economies, such as the UK and Ireland, towards high-potential emerging and established markets globally."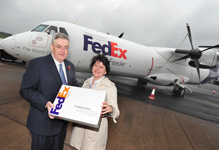 Gerald P. Leary, with Arlene Foster MLA at Belfast International Airport for teh launch