Smiths expands with new Midlands site
Newspaper distributor Smiths News has opened a new depot in Birmingham to replace its existing Birmingham, Redditch and Coventry sites.
The purpose built 55,000 sq ft depot will employ 160 staff picking some 2.2 million newspapers and 1.1 million magazines per week. The Birmingham depot will also use 100 delivery contractors and supply product to over 2,000 retailers.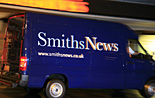 It will also enable Smiths to expand capacity to take in additional operations.
Chief executive Mark Cashmore said: "The investment further demonstrates our industry leadership and commitment to the long term future of the newspaper and magazine supply chain."