The government is has come up with £19 million funding to help commercial vehicle fleets access low and zero emission technologies.
The funding will be available for applications from small local delivery firms as well large distribution HGV fleets. Part of the funding will also go towards new alternative fuel infrastructure such as electric vehicle chargepoints. The competition will open for bids in July.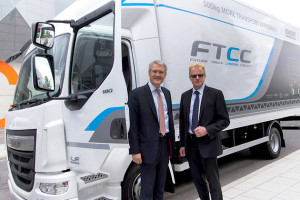 Transport Minister Andrew Jones said: "The UK's low emission vehicle industry is a huge success story and a source of strength in our economy. Today's announcement is further proof that the government is leading the way as global demand for these vehicles grows.
The scheme will be funded by the Office for Low Emission Vehicles (OLEV) through Innovate UK, the UK's innovation agency.
The DfT is also launching a low carbon HGV technology accreditation scheme, designed to provide fleet operators with an independent validation of how much fuel they could save by adopting the latest retrofit technologies onto their existing vehicles. Rating the fuel saving potential of different technologies will help speed up their adoption by the industry.
The Freight Transport Association welcomed the move. Rachael Dillon, climate change policy manager, said: "Fleet operators are already undertaking a wide range of operational actions to reduce carbon emissions from driver training and aerodynamics to routing and scheduling. However, a step-change in emissions reductions could be made with a switch to greener fuels and technologies."