Hoppecke has won a £1million contract to supply batteries and chargers to Briggs' short-term hire fleet.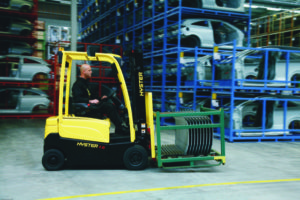 Briggs is taking 600 batteries and chargers from Hoppecke with the aim of renting units to cope with seasonal or emergency peaks in demand and changing work patterns. Briggs has been expanding its STH fleet – around 5,000 machines are in operation at any one time – with a particular focus on next-day delivery.
Having previously invested around £70m in the development of its dedicated hire fleet, Briggs has this year injected a further £10.8m to address growing demand for the short-term rental of equipment. This trend has been most obvious at airports, in the construction industry and in event management, including small shows, exhibitions and concerts. Briggs also believes that uncertainty around Brexit is causing some companies to choose to rent equipment as and when they need it.