About 200,000 pallets will be burned on bonfires on Guy Fawkes night, costing businesses about £2m. Not surprisingly, pallet suppliers are urging people to save pallets from the fires.
Phil Storer, director of Pooling Partners UK and Ireland, said: "I am the last person in the world to be a killjoy, but a village bonfire can be a massive pile of bank notes awaiting destruction."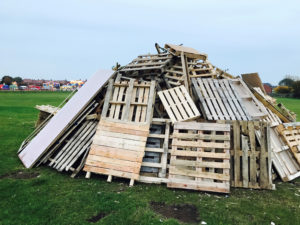 And Andrew Bradshaw, asset director of LPR UK and Ireland, said: "There's a prevailing misconception that pallets are disposable but this just isn't true. Pallets have been designed to be used a minimum of 50 times, and, therefore, provide the most sustainable and cost-effective method of moving goods to market."
LPR also highlights the environmental impact saying "roughly 35,000 trees have been used to make the pallets targeted for fire".
"It is cheaper to repair them than make new pallets, as well as being more sustainable for the environment," said Storer of Pooling Partners. The average cost of a new pallet can be between £8 and £10 while it costs only a fraction of this to repair them and return them to the supply chain.
LPR is urging retailers to ensure all pallets are safely stored, particularly at night when people looking for free firewood might target industrial estates. Bradshaw said: "Every pallet burnt on a bonfire constitutes handling stolen goods. It is also environmentally damaging. Bonfire Night is a much-loved British tradition, but let's make this year's even more special by keeping it pallet-free."