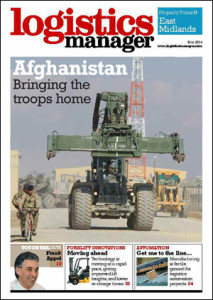 LOGISTICS MANAGER, MAY 2014 plus LM-SHEDS supplement
Cover Story: Afghanistan
Two years in the planning and two years to complete the process – the redeployment of the UK's force in Afghanistan is a massive undertaking. In the second of her articles from Camp Bastion, Liza Helps looks at what is required.
Pharmaceuticals: Strong medicine
The pharmaceuticals sector is increasingly looking at how it can use supply chain to create a competitive advantage while at the same time maintaining strict standards.
Analysis: LSC Conference
More than 200 supply chain leaders took part in the 12th Logistics and Supply Chain Conference in London last month.
Automation: Get me to the line on time
Retail automation projects have been making headlines, but in many ways the manufacturing sector is even better territory for logistics automation projects.
Round Table: Logistics at the top table
How do you configure a retail logistics operation to make the most of the opportunities available with e-commerce? That was the question facing a team of retail experts in our round table sponsored by Vocollect, part of Honeywell International.
Forklifts: Innovations
Technology is moving at a rapid pace, giving improved lift heights, and lower re-charge times.
Show preview: CeMAT 2014
CeMAT 2014 is expected to attract more than 1,000 exhibitors from 40 nations and occupy over 1.3 million sq ft of exhibition space, according to the organisers at Deutsche Messe.
East Midlands: A turn for the better
Increasing take-up and continued occupier demand has triggered a spate of speculative development across the region.
Special Supplement: LM-Sheds 2014
LM-Sheds is the definitive guide to warehouses and distribution centres currently on the market.  This year the guide provides details of more than 350 sites in the UK, based on information provided by agents and developers. As well as new and second hand buildings it includes the major design and build sites around the UK.
| | |
| --- | --- |
| [asset_ref id="1843″] | Now there are more ways to get Logistics Manager |
| [asset_ref id="1843″] | Logistics Manager is available through the iPad Newsstand. If you have the LM app you can go to 'My Editions' and you will see the latest edition ready to be downloaded. |
| [asset_ref id="1843″] | To download the app from the Apple store, please click here |
| [asset_ref id="1843″] | And you can subscribe to the hard copy by clicking here. |