Sales at online fashion retailer ASOS rose 26 per cent to £2.36 billion last year as the company started to reap the benefits of its investment in its fulfilment facilities internationally.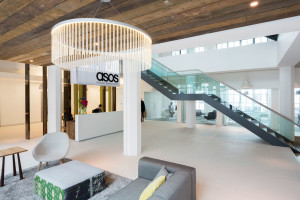 Chief executive Nick Beighton said: "From a global supply chain perspective, good progress was made with the technology to enhance our global supply chain including: facilitating the opening of the new US fulfilment centre, improvements in our carrier management options and improvement in the software we use to manage our customer contacts."
In Germany, ASOS said the Euro hub phase two extension was progressing to plan. "Within the year, handover of the site was completed along with delivery and commencement of installation for the automated storage system. This automated storage system is now over 95 per cent complete with testing and commissioning well underway. Good progress is also being made on the new warehouse management system which will be installed this year."
In the US, the company's one million square foot warehouse in Atlanta is now live for both inbound and outbound despatch, with plans to ramp towards 100 per cent local fulfilment for the US market over the coming year.
"This facility opened with a greater level of mechanisation than we saw in either of our other warehouses, notably conveyors for transporting product to pickers. Nevertheless, this facility will operate as a manual operation during the coming financial year before automation benefits begin to accrue from FY20 onwards."
A project to increase capacity at the Barnsley hub was completed on schedule, adding two million units of stockholding capability.
"This capacity has also been supplemented with the opening of a multi-use facility at Doncaster. In addition to providing three million units of incremental stockholding capacity, this facility will also undertake returns processing, giving increased capacity and greater flexibility through peak trading and enhancing our returns processing capability longer term."
ASOS invested £242m in its technology and transformation programmes during the year, and said that capital expenditure for the next two years is expected to be at broadly similar levels.
This includes investment in TGR, a new retail planning merchandising system that will allow ASOS to plan and range products by fulfilment centre, improve its ability to price differentially across global markets, and help optimise product clearance costs.
It also plans further Euro Hub automation, and the automation of the US Hub.
For the year to 31st August 2018, UK revenue at £861.3m was 23 per cent up on last year, while revenue from the rest of the EU was up 36 per cent to £739.1m. US revenue was up 19 per cent at £311.6m while Rest of the World revenue was also up 19 per cent at £443.2m.
Group operating profit rose from £79.6m to £101.9 million.
Distribution costs increased by 20bps to 15.8 per cent of revenue, "driven by increased mix into more expensive delivery propositions and territories, partly offset by improved standard delivery rates".
Warehousing costs increased by 120bps to 10.0 per cent of revenue "due to higher transitional costs as we build out our supply chain capacity, with increased fulfilment mix from Euro hub which is still a manual operation and one-off set-up costs for the new US Atlanta fulfilment centre".