Operating profit rose 36 per cent in the first quarter at XPO Logistics to $141 million. sales were up 18.4 per cent to $4.19 billion.
XPO's logistics business saw sales rise 23 per cent to $1.45 billion, led by strong global demand for e-commerce contract logistics, as well as gains from the industrial sector in North America and the fashion sector in Europe, particularly in the UK, Netherlands, Spain and Italy. Favourable foreign exchange rates were also a benefit to revenue. Operating income for the logistics segment increased to $47.5m, compared with $32.9m for the same period in 2017.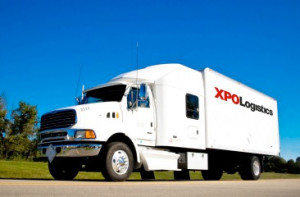 Operating income for the transport segment increased to $139m in the quarter, compared with $105.3m for the same period in 2017. Sales were up 16 per cent to $2.77bn led by increases in freight brokerage and last mile in North America, as well as dedicated truckload transport in Europe, and favourable foreign exchange rates.
Chief executive Bradley Jacobs said: "Organic growth in last mile was 15 per cent, and logistics was 14 per cent, both driven by e-commerce demand. Profit significantly outpaced revenue in our logistics segment, with operating income up 44 per cent and adjusted EBITDA up 28 per cent.
"In our transport segment, we grew freight brokerage revenue by 30 per cent in a tight market. We expanded our margins in North American freight brokerage and European dedicated truckload, and improved our adjusted operating ratio in North American less-than-truckload to 87.8 per cent."
Jacobs continued, "We're making disciplined investments in innovation and sales to propel long-term growth. We recently introduced our digital freight marketplace, smart warehouse platform and voice integration for consumer self-service.
"In April, we announced XPO Direct, a shared-space distribution network of warehouses and last mile hubs that gives customers flexible capacity. In sales, we won a record $972 million of new business in the first quarter, and our sales pipeline stands at $3.6 billion. We remain on track to deliver at least $1.6 billion of adjusted EBITDA and approximately $625 million of free cash flow this year."