The September issue of Logistics Manager is out now in print, online as well as for the iPad and Android.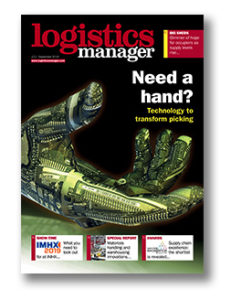 Cover story: Need a hand?
Retailers are under pressure to respond to consumer order faster and cheaper, and the cost of getting an order wrong is high. But there are a range of technologies available to help.
Supply Chain Excellence Awards
There was a record entry – now see who was shortlisted…
Network logistics
How are the pallet networks planning to thrive in a changing market?
Big Sheds: The heat is on
Supply levels are rising – what does it mean for occupiers?
M25 West: Catch it if you can
Space is becoming more elusive in West London…
Materials Handling & Warehousing Special
Automation: Sortation and conveyors
The nature and structure of automated sortation is shifting, opening up wider access to the technology.
Forklift trucks: Rising above it all
UK warehouses are full, and Brexit is exacerbating the pressures of the peak period, so stretching storage space with a VNA configuration could be a valuable solution.
Packaging: Finding the golden mean
How companies are going green with their packaging.
Loading bay: Loading on up
Loading bay design is evolving to meet changing operational demands.
Preview: Get set for IMHX
The exhibition opens its doors at the National Exhibition Centre in Birmingham on the 24th September. Get ready with our preview of what's on offer.

---
Click here to subscribe to the print edition of Logistics Manager