More than 40 supply chain leaders will be judging the 2018 Supply Chain Excellence Awards.
The judges include supply chain and procurement practitioners with some of Europe's biggest retailers and manufacturers as well as top academics and past award winners.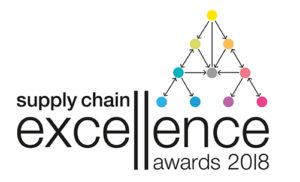 The deadline for Awards entries is 29th June. Shortlisted entrants will be invited to make presentations to the judges in late September.
The Awards have grown continuously since they were launched to become the benchmark for best practice in supply chain and logistics.
Overall winners have included Severn Trent major motor manufacturers such as MAN and Jaguar Land Rover, IT companies such as Infineon and Dell, consumer products companies such as Pepsi-Cola and Danone, and retailers such as Primark and Waterstones.
The confirmed judges include:
Alastair Charatan, Supply Chain Director, Consultant
Alex Harvey, Head of Robotics and Autonomous Systems, Ocado Technology
Alexander Trautrims, Lecturer in Supply Chain and Operations Management, Nottingham University
Alyson Scott, Procurement & Supply Chain Director, TGI Fridays
Becky Lombardo, Logistics Director, Matches Fashion
Brodie McMillan, former Logistics Director, Whitbread
Calum Lewis, Logistics Director, Lego
Carl Lomas, Chairman, Institute of Couriers
Carl Polak, Logistics Programme Manager, Ford Motor Company
Chris Fielden, Group Supply Chain Director, Innocent Drinks
Chris Wand, Head of Supply Chain, Severn Trent
David Shouesmith, Consultant to the Aerospace, Defence and Security Sector
Deon Pillay, Head of Supply Chain, Nando's
Geoff Shucksmith, Group Director of Distribution & Supply Chain, Holland & Barrett
Jason Russell, Supply Chain Manager, Mitchell and Butlers
Jim Spittle, Chairman of the Board, GS1
Jonathan Gorst, Principal Lecturer, Sheffield Hallam
Jonathan Stowe, Operations Director, Nisa Retail
JP Manfrinato, Logistics Director, TangleTeezer
Karl Heinz Meister, Head of UK Parts, MAN Truck & Bus
Karla Jakeman, Innovation Lead – Mobility in the Manufacturing, Materials & Mobility sector, Innovate UK
Kurt Schilders, Director of Supply Chain, Telenet
Martin White, Retired Head of Supply Chain, Primark
Matthew Talbot, Operations Director, Neptune
Michael Roberts, Head of Group Logistics, Specsavers
Nicky McGroarty, Head of Supply Chain, Telefónica
Paul Smith, Executive Director, YPO
Richard Hunt, former Chairman, London Ambulance Service
Simon Dancy, Group Planning Manager, Winterbotham Darby
Simon Kempston, Head of Supply Chain, AO.com
Sue McGeorge, Supply Chain Director – UK & Western Europe, Kimberly-Clark
Terry Siddle, Director of Logistics and Distribution, Pets at Home
Theo De Pencier, deputy chairman, London Ambulance Service
Vinesh Patel, Operations Manager, Sky
Andy Perry, Logistics Director, The Co-op
Tim Allinson, Global Supply Chain Director, Jack Wills
Click here for full details of the Awards categories and how to enter