Uniserve is the fastest-growing logistics service provider in the UK, according to data analysed by Logistics Manager magazine over the past few months.
The company was announced at number one of 50 in the third and final webinar today, hosted by Nick Bradley, Editor of Logistics Manager. Highlighting the company's progress in what has undoubtedly been the most disruptive year for the industry ever, Uniserve even pipped Amazon to the top-spot. The company's turnover increased by an astonishing 112% from £243.2 million – as reported in last year's Top 50 (which placed it at position 27 out of 50) – to £517.3 million, propelling it to top spot in the process. With that revenue growth came profits before taxation of £48.5 million.
"Although the pandemic has had a huge impact on business globally, a rapid response was required to overcome the adversity," commented Bradley during the presentation. "The turmoil presented many opportunities, though, and Uniserve managed to offer service offerings and scale of operations to fulfil those needs."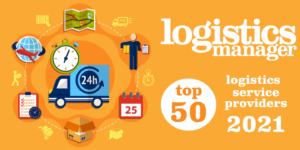 New commercial and in particular government clients have been crucial to Uniserve's successful year. As was well publicised, the company was drafted in to assist in the management of the UK supply chains for PPE, moving goods by all modes of transport to deliver ventilators, goggles, surgical masks, gloves, gowns, as well as millions of litres of hand sanitiser. All of its services across sea, air, road, rail, warehousing, distribution, customs, professional services, education and technology saw a significant increase in business.
"All companies in the Top 50 posted growth, which given the challenges of the pandemic, Brexit, and many other disruptive influences, is pretty impressive," continued Bradley. "I think overall we are lucky in the UK that we have so much expertise in the sector and our readers are certainly spoiled for choice when it comes to the partners that they can work with. Uniserve was the fastest-growing company by growth and rightfully claimed that top spot, but there were another 49 companies in the list – and let's not forget dozens and dozens more analysed – that really highlight that the UK is a leader around the world when it comes to logistics service provision."
As well as announcing the final 20 companies, Bradley was joined on Day 3 by Tony Mannix, CEO of Clipper Logistics, and Alex Tatham, Managing Director, and Andy Newberry, Group Operations Director of Westcoast, for two in-depth interviews about their year and thoughts on current trends, Brexit, the pandemic and more.
If you missed the three presentations on 6th, 7th and 8th December, click here to watch on-demand
To order a copy of the 2021 Top 50 Logistics Service Providers, please email jasmine.rakkar@akabomedia.co.uk