British Gypsum and CEVA Logistics have introduced a fleet of 85 Volvo tractor units, which transport British Gypsum's interior lining systems from five specialist manufacturing sites to more than 3,500 stockists throughout the UK.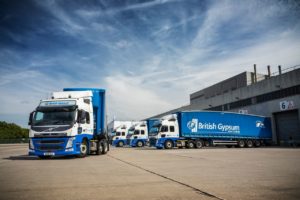 The vehicles promote have an extra-low ride height for reducing blind spots and increasing visibility levels. CEVA has – in collaboration with British Gypsum and third party suppliers – specified a number of other features which will promote safer trailer changing, including an advanced camera system, anti-roll and drive away prevention device, full telematics and additional nearside vision panels in the passenger door.
Brian Fisher, distribution manager for British Gypsum, said: "We have a desire to be the safest road transport network in the UK and these new high-tech, best-in-industry vehicles will help us to achieve that vision".