Family trust the Drummond Estate and Landchain have submitted a planning application for a £90 million logistics hub which will provide 106,500 sq m of warehouse and distribution space south west of the Enderby Park and Ride.
The development proposes buildings ranging from 14,000 sq m to 46,000 sq m, as well as flexibility to further sub-divide plots to suit individual occupier's needs.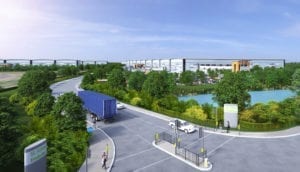 The proposals would create 2,000 new jobs and hundreds of skills and training opportunities. The logistics hub will provide a specialised Logistics Training Centre to cater to the growing skills-gap for high tech logistics employees across the region.
"These proposals represent an exciting new phase in the growth of logistics facilities in the region. Logistics is a fast growing and rapidly changing sector that helps underpin our economy," said Landchain's Ben Grinnall. "The Enderby Logistics Hub is an excellent opportunity to attract high quality businesses to the area and help consolidate the location as the heart of the industry."
The local authority will now consider a decision on the applications by summer 2019.