AB InBev has opened an automated warehouse with space to store 23 million pints of beer at its largest UK brewery in Magor, South Wales.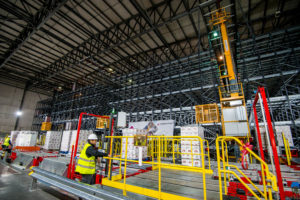 It plans a global roll-out of the warehouse technology, making Wales the starting point for the technology expected to cut its carbon impact.
The 80,000 cubic metre warehouse will enable AB InBev to meet growing UK demand for beer brands, including Stella Artois, Budweiser, Bud Light and alcohol-free Budweiser Prohibition. Robotic cranes operating across six stories and nine miles of racking will be able to retrieve any one of the stored pallets in under 60 seconds.
The warehouse's technology was delivered by automated material handling company Consoveyo.
AB InBev reckons the technology will reduce the brewery's carbon footprint by 605 tonnes of CO2 by reducing transport between warehouses.
"I'm proud that this technology is a global first for AB InBev and look forward to seeing its implementation all over the world," said brewery manager Lloyd Manship.
"This investment demonstrates our commitment to Wales. It means we can get our beer out and into stores and pubs faster and more efficiently than ever before, that's ultimately good for us, our customers and the environment."
The new facility was opened by local MP for Newport East, Jessica Morden. She said: "I am delighted to see one of the region's biggest local employers continue to grow and expand, and to meet the engineers that will be operating the facility."
---
See the latest robotics and innovation technologies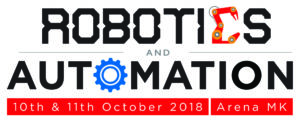 at The Robotics and Automation Exhibition which takes place at Arena MK in Milton Keynes from 10th to 11th October.
The exhibition has grown dramatically following the success of last year's event and is on track to be three times the size.
The exhibition will also include a full conference programme Alex Harvey, head of robotics and autonomous systems at Ocado, will provide the opening keynote looking at the development of robotics in the warehouse.