ABB to show how robots can help to increase the speed and flexibility of order processing and distribution.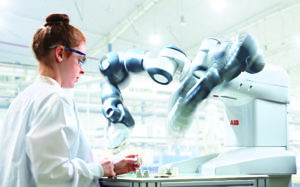 ABB will be demonstrating how its robotic technology can help transform warehouse and logistics efficiency at Robotics and Automation, at the Arena MK in Milton Keynes from 10th to 11th October. Stand 304 will show how robots can be used standalone or integrated into warehouse management systems to offer greatly enhanced performance through faster, more accurate order processing and goods handling.
Amongst the attractions will be a virtual reality (VR) game demonstrating ABB's robotic palletizing solution, designed to help fulfilment centres and warehouses to co-ordinate the integration, management and automation of order processing and distribution. The solution can quickly stack a variety of products, creating a stable pallet load ready for shipment in minutes, offering fast paced, safe, reliable, space saving automation for outbound operations. Through the VR game, customers will be able to compete against an ABB robot in a timed challenge involving palletizing products in a simulated warehouse.
Also on display will be ABB's YuMi® collaborative robot, demonstrating one of its many potential uses by assembling and packing various items. Already used in industrial applications worldwide, the dual-arm robot with integrated vision technology has been designed to work safely alongside workers in small parts assembly and handling processes without protective barriers or cages. Lightweight and portable, YuMi can be readily deployed wherever needed, providing users with a flexible way of automating their production processes.
"The UK's manufacturing and distribution companies are facing increasing pressure to improve productivity and speed throughout their operations while facing labour shortages and an increased focus on safety," says Russell Holmes, Sales Manager for ABB Service Robotics in the UK and Ireland. "Robots can play a key role in alleviating this pressure, enabling companies to better respond to the growing demands of today's consumers for faster delivery of an expanding range of products."