ABB is to provide a power and propulsion solution for a hydrogen fuel cell vessel that will operated on the Rhône river in France.
The vessel is being built for Sogestran Group subsidiary Compagnie Fluviale de Transport and is due for delivery in 2021.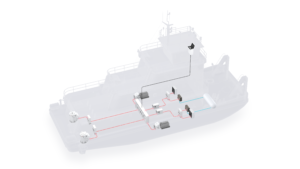 Once the fuel cell power plant has been fitted, the vessel will run daily. Attention will be paid to the refuelling procedures needed to meet the operating schedule. This will also provide insights into what is required to optimise and develop refuelling infrastructure needed for hydrogen fuel cells in marine operations.
"CFT has been an inland waterways innovator for more than half a century. Powering river transport in a sustainable way is a new type of challenge, but it has become vital that we cut emissions on Europe's inland waterways and specifically in the city centres. With this project, we aim to highlight that emission-free operation is both feasible and commercially viable," said Matthieu Blanc, COO at CFT.
The project is part of the EU-funded initiative to deploy commercially operated zero-emission vessels for inland and short sea operations, FLAGSHIPS.