At a price unrivalled by any other robot in its class, Acrovision are the sole UK distributor of the AUBO-i5 collaborative robot (cobot).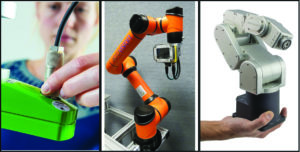 The AUBO-i5 is an advanced, human friendly collaborative robot providing solutions for the small and medium manufacturing sectors. The AUBO-i5 cobot has a 5kg payload, 924mm reach and a high ±0.05mm position repeatability, it is extremely simple to install and commission and quick to configure.
Acrovision is an experienced integrator of industrial barcode reading and camera vision inspection systems and have expanded their automation solutions to include collaborative robots (cobots). Acrovision can also provide the expertise required to easily integrate a vision system into the robot's operation, to perform a diverse range of automatic handling activities.
At the Robotics and Automation Show 2018, Acrovision will show how, more frequently, vision applications need item-handling to optimise the image acquisition process. Acrovision will demonstrate this break-through in using cobots with vision inspection systems.
The key advantage of using cobots is that as well as being very easy to program, they are also inherently safe to allow them to work with and alongside humans, (subject to risk assessment). No longer the need for expensive safety guarding requirements.
Acrovision are also the UK distributor for the Meca500 ultracompact six-axis robot arm, a 'safe by design' industrial robot that is twice as small as other small industrial robots, with its controller embedded in its palm size base. Built with precision in mind, repeatability is 0.005mm for reliably automating micro-positioning tasks and delicate manipulations.
Acrovision's third solution at the show will be the Pick-it 3D camera and vision software for robot picking. It is a plug and play smart automation product that guides the cobot to pick and place. It integrates out-of-the-box with all major cobot brands including the AUBO-i5, providing a fast return on investment.