Active Ants has opened its first e-fulfilment centre in the UK – a 252,000ft² facility in Northampton which relies on human and robot collaboration for efficient fulfilment of e-commerce orders.
The company operates robotised warehouses across Europe, including in Germany, Belgium, and the Netherlands – where it was founded.
Khalil Ashong, Active Ants' Country Director for the UK, said: ''We have a structured and efficient process which combines humans and robots. In our 252,000ft² warehouse we can ship up to 10 million parcels a year. In full capacity over 400 robots will work next to 250 people making the site the most efficient and sustainable in the UK."
In use at the Northampton facility is an AutoStore automatic storage and retrieval (ASRS) system. The AutoStore system has a three-dimensional aluminium grid containing stacks of tote bins and autonomous robots run that along the top. of the grid. The robots transport items from the bins to picking stations, reducing the time that needs to be spent on manual picking processes.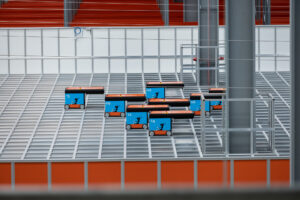 The facility also has a range of autonomous mobile robots (AMRs). These serve as goods-to-person robots that move items around the warehouse and to picking stations where Active Ants' human workers need them to carry out their tasks.
In response to concerns that robots could take jobs away from people, Ashong argued that the robots work alongside human employees, alleviating the burden of having to do menial, repetitive labour and giving them the opportunity to spent time doing more skilled work.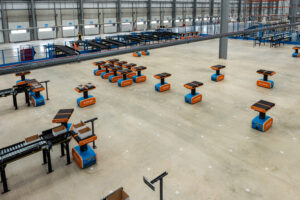 There has been a focus on sustainability when it comes to the technology within the new site. The warehouse has an A+ EPC rating and 'Outstanding' BREEAM certification. It has over 1,000 solar panels on its roof that it uses as a source of electricity.
In addition to this, automated packaging machines installed in the facility make boxes that are tailored to the specific dimensions of their contents, reducing the need for void fill materials and freeing up more space in delivery vehicles to allow for fewer trips to be made.
Both Active Ants and AutoStore exhibited at the co-located IntraLogisteX and Robotics and Automation exhibitions in Birmingham earlier this year. In 2024, both events will return to the NEC, alongside the Sustainable Supply Chain Exhibition. Click here to find out more about the event next year.