AGRO Merchants Group, which specialises in temperature controlled logistics, has acquired Shropshire-based Grocontinental.
David Grocott and Linda Grocott, third generation owners of Grocontinental, will continue to lead the business, which was established in 1941, and provides cold storage and logistics services from a 35 acre site at Whitchurch in Shropshire.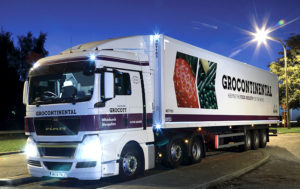 It offers a range of specialist services including cheese cutting, blast freezing, ingredient sorting, de-boxing and reboxing, shrink-wrapping, bar coding, labelling and export packing. Multi-temperature storage is available from -28°c to +12°c.
AGRO Merchants Group operates 63 facilities offering 264 million cubic feet of space in 11 countries in Europe, North America, Latin America and Asia Pacific.
Chief executive Carlos Rodriguez said: "This transaction is the culmination of a process that for me began more than three years ago. When we founded AGRO in 2013, I quickly identified Grocontinental as the ideal potential partner in England to join our network. This is not just due to its market leading position, high-quality assets, and deep commodity expertise. I was most drawn to the culture and values of the Grocott family, their commitment to the local community, and the long-standing relationships with customers and employees."
Grocontinental is the third significant investment by AGRO in the UK and Ireland, following the 2014 purchase of Castlecool and 2015 acquisition of the Sawyers Group.
Linda Grocott and David Grocott said: "To move Grocontinental into a larger group is not a decision we have taken lightly. We have been very impressed with AGRO's ambitions, the strength and depth of its structure and expertise; and its respect for our 76-year family-owned business heritage. We are looking forward to being part of the future success of the Group and continuing to grow our business at Grocontinental."