AirBridgeCargo Airlines chartered flight for 146 cows in partnership with Intradco Global from Houston, USA and Bangkok, Thailand.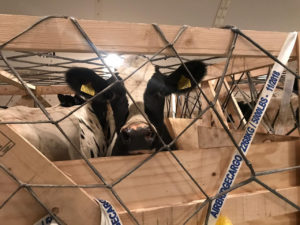 The cows were grouped in 27 cow stalls stowed and lashed on the main deck of Boeing 747-8F, flying 17,182 kilometres in 19 hours 45 minutes. AirBridgeCargo's flight crew ensured that the internal temperature has been maintained in accordance with the required guidelines, within the range from 6 °C to 10 °C. Additional support was provided by the groom to make sure the cows felt safe and secure.
"We treat animals not like special cargo, but rather as very sensitive passengers who require extra care and attention. No matter how experienced and qualified our specialists are, with every flight we deepen our knowledge and learn from our experience, as each transportation is unique," said AirBridgeCargo Airlines general director Sergey Lazarev.