Aldi has extended its partnership with iForce, an Eddie Stobart company, to support the future growth of its online platform for non-food products.
The extension of the partnership, which began in 2015, will enable Aldi to develop its online proposition and grow its market share across the UK.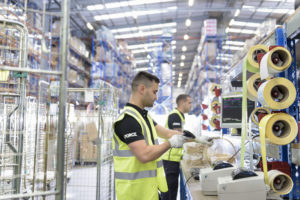 iForce will continue to operate out of the Corby campus sites and provide Aldi with its fulfilment service powered by its proprietary software SMART, iForce Gateway.  Aldi will also continue using iForce Pathfinder, a carrier management solution supported by iForce's Route Genie software.
Following the 2015 launch, Aldi and iForce have continued to expand the range and scope of its online operation which has included the of spirits, an expanded garden range and a number of fast-moving consumer goods.
"Our eCommerce platform is a key part of our business, making our award-winning quality wine and Specialbuys available to as many people as possible," said Aldi managing director of IT David Barter. "Using iForce's expertise in fulfilment means we have now been able to expand our online offering, and we look forward to continuing to work with them in the future."