Aldi has submitted planning application for a 613,000 sq ft regional distribution centre and headquarters on the Isle of Sheppey to Swale Borough Council.

The distribution centre will be built on land owned by the German supermarket at Neats Court, Queenborough, at a reputed cost of £50m. It will feature 94 goods in/goods out loading bays.
Swale Borough Council received details of the planning application on 7th January. Alongside the distribution centre, Aldi will also construct more than 41,000 sq ft of ancillary offices and provide 325 parking spaces, and 56 cycle parking spots.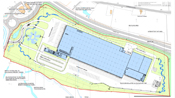 The DC would be built on land the company still owns on the island. The previous plans for a regional HQ and distribution centre were scrapped in 2010.
Since then however budget supermarkets have  grown in popularity and ,earlier this year Aldi announced it was investing some £600 million to create 1,000 stores across  the UK by 2022 creating some 35,000 jobs earlier this year. It is thought to be looking at securing a further 12 stores in Kent.