Aldi has unveiled a new fleet of Team GB branded truck liveries that will be seen on roads across the country ahead of the Rio Olympics. The trucks will serve Aldi's eight distribution centres and 590 UK stores.
Tony Baines, joint managing director of corporate buying, said: "Since we opened our doors in the UK in April 1990, we've worked hard to establish British roots, sourcing locally where possible and building long-term relationships with British suppliers. The partnership with Team GB celebrates this and epitomises the spirit of teamwork that is at the heart of how we give customers what they want and respect what matters most to them."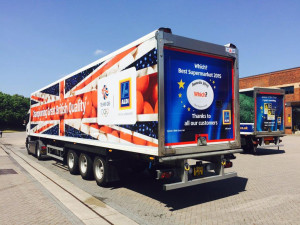 The supermarket plans to open a further 60 stores before the start of the Rio 2016 Olympic Games.