Amazon is poised to open its latest site at Gazeley's 574,000 sq ft Altitude mega-shed in Milton Keynes – the largest and tallest speculative logistics warehouse in the UK.
Amazon has been linked with warehouse since the end of last year but as yet there has been no official announcement. Signage outside the development in Milton Keynes suggests that the internet retail giant is due to take occupation soon.
Jobs listings on the internet state opportunities at a "brand new Amazon site" based in "Milton Keynes, MK17 8EW" – which just happens to be the postcode for Gazeley's Altitude building.
With no official announcement there is no official knowledge regarding terms of the deal but it is thought that the deal was struck in March this year on a 20-year term with standard incentives for fit-out etc. The rent achieved is thought to be around £6.75 – £7 per sq ft.
The 21m high building, on a 26.26 acre plot, has 532,560 sq ft of warehousing space, 26,802 sq ft of offices, as well as two office pods to the north and south of the building each totalling 7,233 sq ft. In addition it has 100 HGV and 381 car parking spaces as well as a 21m haunch height, 117 dock and eight level access doors.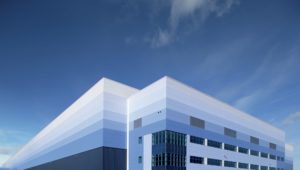 The building has an innovative design for maximum operational flexibility and efficiency. This includes: enhanced mezzanine capacity and an increased number of pallet positions; double deck loading doors in every position, at a ratio of one door per 4,500 sq ft; an increased incoming power load provision of up to 4 MVA.
Development director Joe Garwood said: "Altitude brings together a combination of innovation, technology, efficiency, sustainability and intelligent logistical thinking from some of the most experienced figures in the business to create a building that sets a new benchmark for the industry."
The warehouse also includes a host of state of the art sustainability features such as LED lighting, solar thermal heating, rainwater harvesting, power charging stations for electric vehicles and strengthened steel to incorporate Solar PV across the whole roof which allows a customer to save up to 1,300,000 kg of CO2 per annum.
IT is also designed to the WELL Ready Standard certification, making the building a healthier and more productive space for its occupants.
Joint letting agents on the scheme Savills and JLL.