Amazon has revealed its latest autonomous latest Prime Air drone design that can fly up to 15 miles and deliver packages under five pounds to customers in less than 30 minutes.
Chief executive of Amazon Worldwide Consumer Jeff Wilke said: "We expect to scale Prime Air both quickly and efficiently, delivering packages via drone to customers within months."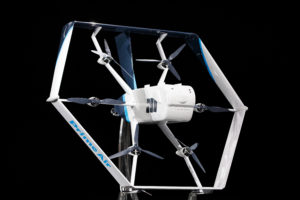 Amazon's drone is a hybrid design and features advances in efficiency, stability and safety. It uses the latest artificial intelligence for improved safety. For example, if its "flight environment changes, or the drone's mission commands it to come into contact with an object that wasn't there previously—it will refuse to do so—it is independently safe," said Wilke.
Like a helicopter the drone can do vertical take-off and landing, and like an airplane it is aerodynamic. The drone easily transitions between the two modes. It is controlled with six degrees of freedom, as opposed to the standard four, to ensure more stability when operating in windier weather.
The done is also fully shrouded, including the wings, which improves flight efficiency.
The fully electric drone will also contribute to reducing emissions. Wilke said: "An electric drone, charged using sustainable means, traveling to drop off a package is a vast improvement over a car on the road. Today, most of us run to the store because we need an item now. With a service like Prime Air, we'll be able to order from home and stay home. This saves tremendously on fuel usage and reduces emissions."