Antalis has said that it will prioritise existing customers on delivery routes and has introduced an online ordering facility to ensure orders are delivered even if demand grows past current capacity as a result of COVID-19.
The company said that its warehouses and logistics operations were presently running as usual and Antalis' supply chain team had "responded extraordinarily well in these unparalleled times".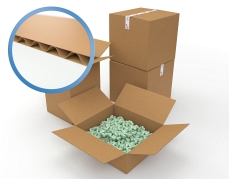 The packaging supplier has introduced a new online ordering service that customers can use even if the company faces staff shortages due to the coronavirus.
Antalis has also introduced a COVID-19 dedicated helpline and email, for customers to contact if they need support with ordering during the pandemic.
David Hunter, regional MD, UK & Ireland, at Antalis said: "We realise that Antalis has an essential role in supplying print and packaging materials for vital industries such as food, pharmaceutical and healthcare.
"We are fortunate to have leading expertise and technology to design and manufacture bespoke packaging solutions, as well as having an approved global food safety certification.
"Our drivers are doing a fantastic job in safely delivering materials by following our strict guidelines which include hand washing/sanitising, maintaining a safe distance, kerbside deliveries and keeping their vehicles clean."