Electric van maker Arrival has acquired an additional 30,000 sq ft warehouse  in Bicester just three months after setting up shop in an adjacent unit.
The company has taken Unit 6, at [email protected] 9 in Bicester for its composites production facility
The deal was agreed by VSL & Partners and White Commercial for landlord Barings Real Estate Advisers.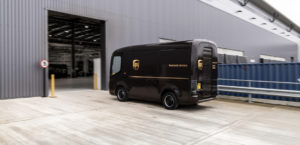 VSL director Tom Barton said: "We are working closely with Arrival to facilitate their property requirements in Oxfordshire and are delighted to have secured a further manufacturing plant to accommodate their continuing growth.
"Arrival is bucking the current trend and taking big strides to facilitate their ability to meet demand. Their expansion is truly impressive and a testament to the technology and investment confidence in the business model."
In January this year international parcel company UPS announced an order of 10,000 purpose built electric vehicles from UK based Arrival. The initial 10,000 vehicles will be rolled out in the UK, Europe and North America from 2020 to 2024 in a deal worth hundreds of millions of euros each year.
UPS have the option to purchase a further order of 10,000 vehicles during this period. UPS venture capital arm also announced an investment in Arrival of an undisclosed amount.
The vehicles will be built using Arrival's new method of assembly using low capital, low footprint microfactories located to serve local communities and profitable from thousands of units.
Arrival first announced a partnership with UPS to develop electric vehicles in 2016 with today's vehicle order and investment accelerating the deployment of fit for purpose electric fleets at scale. Arrival's unique Generation 2 electric vehicles offer UPS compelling commercial and environmental benefits to make a seamless and cost effective transition to a zero emissions fleet.