Arvato SCM Solutions has started order picking project for Sennheiser using smart glasses, which it says saves time and ensures a smooth flow of materials.
Günther Maaß, global logistics manager at Sennheiser, said: "We're very pleased to have a service provider like Arvato at our side, one that not only shares our point of view with regard to innovation and development but also invests in the actual implementation.
Arvato is working with technology supplier Picavi on the "Pick-by-Vision" project.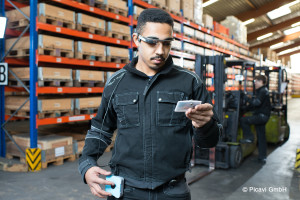 A display integrated into the glasses gives warehouse employees all the necessary context-related information and navigates them through the work process.
For purposes of the project, a separate pick process was identified in advance together with Sennheiser so that processes can be carried out in a controlled environment and evaluated with precise time measurements.
Arvato said initial feedback from employees on the operational side of the business is positive: the new pick technology is easy to learn and intuitive to use.
Dirk Franke, CEO of Picavi, said: "With our pick-by-vision solution, the pickers have both hands free and their eyes on the current process steps at all times – in contrast to the work with hand-held devices. Instead of relying on the tiring voice commands of pick-by-voice systems, our system inserts data directly into the field of view of the worker in real time,."
In the coming weeks, the collected data will be compared and evaluated. During this time, the Arvato employees will continue to wear the mobile WLAN smart glasses to get used to them and be as prepared as possible for the coming peak season of growing order volumes. Meanwhile, Arvato and Picavi are working on an expansion of the system, and have identified another field of application that could profit from the new technology: since the glasses allow warehouse employees to have their hands free when stacking the pallets, errors can be minimised when the outgoing goods are scanned, which leads to significant gains in productivity and quality.
"Innovations are not ends in themselves; they are absolutely necessary to realise competitive advantages and further growth," said Patrick Manders, VP global solution design in the business unit Hightech & Entertainment at Arvato SCM Solutions. "Targeted innovation management helps companies increase their competitiveness, efficiency and sustainability."